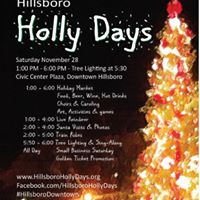 I will be participating in two events in December:
Hillsboro Holly Days Saturday, December 1, 2018
2:00-6:00 pm
Civic Center Plaza,
Downtown Hillsboro
Support Local Businesses
• More than 40 artisan booths
• 25 retail stores within two blocks
• Many indoor dining options nearby
Tree Lighting at 5:30 pm
Countdown with Mayor Callaway
and his surprise guest.
Enjoy Entertainment
Performers and activities for all ages
Farmington Gardens Holiday Market
My partner will be helping my booth on the 1st, and I will be there on the 8th.
Both events are a lot of fun and perfect for holiday gift shopping!